Tous nos ouvrages sont disponibles depuis cette page.
The Backstage Pass Collection (2019) – Black cover (en FRANCAIS)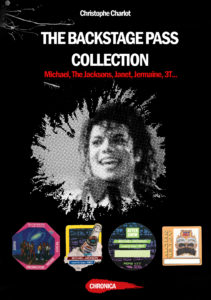 Ce livre, en édition deluxe et limité à 777 exemplaires seulement, contient 116 pages, entièrement consacrées aux pass backstage de Michael Jackson, des Jacksons, de Janet, Jermaine et les 3T. Au total plus de 300 pass backstage de toutes les formes et toutes les couleurs sont regroupés. Une référence ultime pour tout passionné et tout collectionneur !
The Backstage Pass Collection (2019) – White cover (ENGLISH version)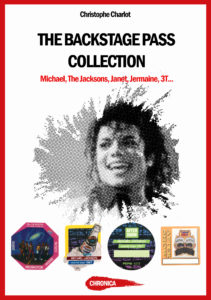 The Backstage Pass Collection is dedicated to BACKSTAGE PASSES of  every tours. This book contains 116 pages and includes passes of Michael Jackson, The Jacksons, Janet, Jermaine and 3T. A never before seen ! More than 300 backstage passes of all shapes and colors are listed. An ultimate reference for every fan and collector. 777 copies only !
The Bad Singles Collection (2018)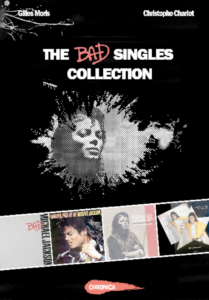 Du Costa-Rica au Japon, de l'Australie à l'Allemagne, cet ouvrage regroupe l'ensemble des pressages singles de l'album Bad. Avec explications, références et photos. Ce livre est destiné aux fans collectionneurs qui aiment avoir un maximum d'infos sur leurs disques et sur ceux qui leur manquent. Le tout est détaillé par des petites histoires et pas mal de touches d'humour… Version deluxe (A5 couverture cartonnée). Limité à 777 exemplaires.
Collector Book 2009-2010 (réédition 2018)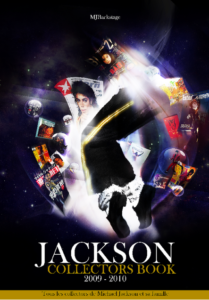 CD, vinyles, livres, magazines, merchandisings, cartes postales, posters… Plus aucun collector Micheel Jackson sorti en 2009 et 2010 n'aura de secret pour vous. Sur plus de 180 pages, ce livre regroupe l'ensemble des sorties et fournit informations, références et photos. Un livre absolument indispensable pour tous les collectionneurs.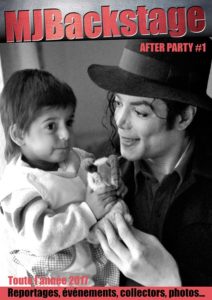 MJBackstage After-Party 1 (2018)
Le MJBackstage after-party est un ouvrage annuel. Sa particularité ? Il ne s'agit ni d'un magazine, ni d'un livre, ni d'un album-photo, ni d'un collector book, ni d'un site web, ni d'un réseau social… En réalité, le MJB After-Party est un peu tout cela à la fois. Il revient sur les événements marquants de l'année précédente et la prend comme point de départ pour un voyage dans la vie et l'oeuvre du Roi de la Pop.
Sur les pas de Michael Jackson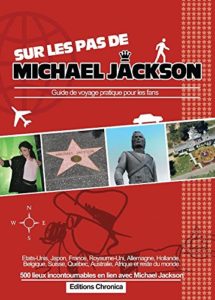 Grâce à ce guide pratique tout en couleurs, vous découvrirez, sur papier glacé, pas moins de 500 lieux liés à l'HIStoire du Roi de la Pop: lieux de tournage, demeures, stades mythiques, lieux en hommage, un concert ou qu'il y ait vécu, des centaines d'endroits sont regroupés dans ce guide qui vous fera voyager des Etats-Unis au Japon en passant par la France, le Brésil, l'Espagne, la Belgique, les Pays-Bas, l'Allemagne, etc.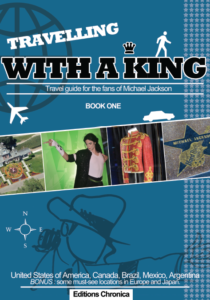 Travelling With A King
This first ever travel guide is totally dedicated to Michael Jackson. This fully coloured and glossy papered book contains places linked to the King of Pop. From studios to houses, venues and statues, you'll find everything you need to know. "Travelling With A King – Book 1", includes : – The United States of America : (New York, Los Angeles, Santa Ynez, Las Vegas & more) – South & Central America (Brazil, Argentina, Mexico, Dominican Republic, The Bahamas) – BONUS: selected places of Europe & Asia The book contains 120 pages
ISBN 978-2-9601429-2-1